Standard software packages
With Flux.DSS/DESIGNER we have developed a software system which is probably one of the most effective and comprehensive 1D simulation tools for large water systems worldwide. For this reason, Flux.DSS/DESIGNER was used as a hydraulic core system in flood forecasting for the Inn, Danube, Salzach, Enns and March for around 15 years.
With Flux.OPERATIONAL we subsequently developed a successor system for the operational use of FLORIS-based models. The system is optimized integrating the models in higher-level systems – e.g. in FEWS from Deltares – and controls all processes relevant for the 1D simulation. The visualization of inputs and results was deliberately excluded, as higher-level systems usually carry these out.
With Flux.VIRTUAL RIVER we offer a model system developed for checking control systems and strategies and as a core system for training simulators. The system is based on numerical simulation with 1D or 2D models and communicates with connected modules via standard interfaces (OPC-UA). Inputs and control signals via this interface are implemented directly in the models and directly effect the results of the simulation.
The numerical 1D core in our simulation systems is FLORIS, for which we have received the exclusive and unrestricted development and marketing rights from ETH Zurich since 2000. In addition to the hydrodynamic core, FLORIS also contains very comprehensive modules for modeling sediment transport, control and power plant operation as well as for inverse modeling. FLORIS is currently being revised in IT technology and will be available in 11/2021 under the name FLORIS-III.
Individual software solutions
There are many questions for which individual programming should be given preference over standard solutions.
This is particularly the case when (a) partial aspects of complex processes have to be automated, (b) systems are implemented for users who have to work without detailed background knowledge and direct support and (c) when the Software packages available on the market are too large and/or too expensive for a specific solution.
We have designed and implemented individual software for a wide variety of applications and in different sizes. The applications range from the complete inflow forecast system for the Gabčíkovo power plant (Danube, SK) to the damage pattern forecast for the Lower Austria Danube to local warning systems to remove gravel in the flooded area of ​​the Danube.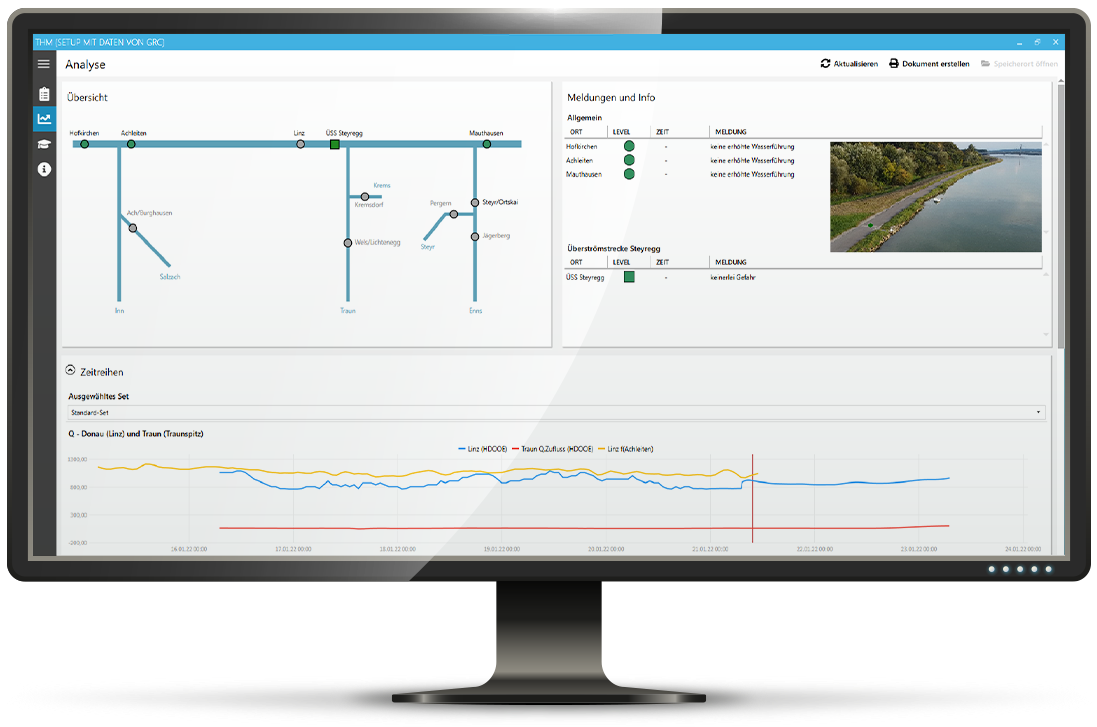 During the conception and development, we proceed according to a proven 4-step plan:
Simulation and training systems
Simulation and training systems occupy a special position between standard and individual software: These systems usually consist of a numerical model that is coupled with a user interface. The numerical model is typically implemented in Virtual River. As a user interface, we use – depending on the objective and customer requirements – a parallel installation of the real SCADA system or a user interface specifically implemented by us.
The basis for creating a training system are always detailed discussions with our customers. Objectives and requirements are discussed, possible solutions and costs are discussed and options for a step-by-step implementation are considered.
Model based assistance systems
With the term "assistance systems for water resources management" as we use it today, we designate approaches and systems that go well beyond the previous model applications. We are talking about complex approaches that reconnect the options available today to derive additional, valuable information from them. At the same time, these systems should be easy to use and integrate into higher-level systems – e.g. the SCADA systems in hydropower plants..
Assistance systems can take on three tasks in water management – as in all other technical areas:
We carry out the conception and implementation of assistance systems as part of projects that typically include software development and water management services. In software development, we can fall back on proven concepts and approaches, whereby we always proceed in projects according to the 4-step plan described above.
The actual implementation is usually preceded by a longer conception phase in which we clarify all requirements, framework conditions and solution options with our customers in detail.